Engineering student organizes program to bring local middle school students their own books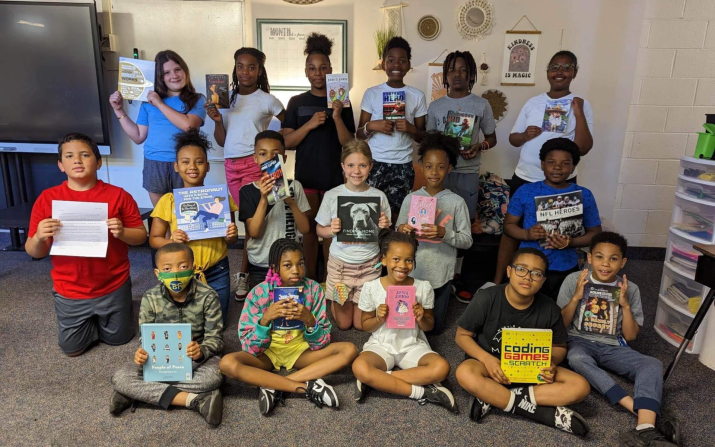 Published on
Oct. 4, 2023
Sometimes all it takes to fall in love with reading is the right book. That's why fourth-year electrical engineering student Albert Wilhelmy launched Book I Own (BIO), an outreach program that gives books to local third and fourth graders that match their interests. 
"A lot of kids grow up not liking to read because all they've read are the required books," Wilhelmy said. "But, what if they had a choice to read about something they like?"
At the end of the 2022-23 academic year, 21 fourth grade students at Boulevard Elementary School had that choice thanks to their Case Western Reserve University (CWRU) student match who was carefully selected by the process Wilhelmy developed. And this year, two additional classrooms of students will participate. 
To ensure students receive a book that they love, they write a short letter—using a template provided by Wilhelmy—to CWRU students, sharing their favorite things to do, what they like and what excites them. Some share that they love cats and sports or spending time with their family. Then, Wilhelmy uses this information to select CWRU students with similar interests. 
"This is really a campus-wide opportunity," he said. "With kids interested in so many different topics, Case [Western Reserve] is awesome because it's not just an arts school or just a STEM school and I am able to find anyone with any interest."
Last year, a CWRU police officer even participated because a student indicated they wanted to be an officer when they grew up. 
Once matched, CWRU students suggest a book they think their grade school buddy might enjoy. The book is purchased through funding from the Office of the President, and to put the final touches on it, CWRU students write back to the elementary school students, sharing why they love this book and other words of encouragement. 
One student wrote, "I hope you are able to pursue what you're passionate about in middle school and beyond. If you find something you really love at school, you can keep doing it for the rest of your life."
Kristy Minnillo, fourth grade teacher at Boulevard Elementary School, said her students were thrilled and the project was a great success.
"You know it means something when a college student is writing to them, encouraging them to read and sharing something they love," Wilhelmy shared.
The idea sparked from Wilhelmy's history of service. When he came to CWRU, he wanted to mobilize the student body towards good, but he quickly realized that students were busy and already had a lot of commitments, so he got creative about time-friendly ways students could give back. Selecting a book and writing a letter should take CWRU students less than an hour and yet, within that short time, Wilhelmy believes they're making a big difference. 
"It's become so evident to me that we all have time and power to really do something good," he said. "Even if we tell ourselves that we are so busy, there is always something that we can do. Whether that be going on a four month mission trip, or spending an hour writing a letter to a kid, we are capable of it and can all give back in some way."
Students interested in participating in BIO can sign up through this form, where they'll provide contact information and share a few interests. While participants may not be called on this semester, with a larger bank of CWRU students, the better chances a third or fourth grader has to experience the "wonderful gift of learning that reading can bring."