CWRU hosts individuals from across the world for NeuroDesign conference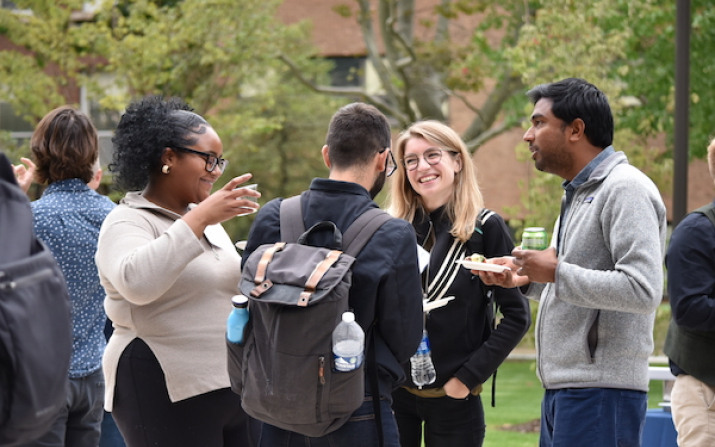 Published on
Oct. 19, 2022
After participating in last year's Cleveland NeuroDesign Entrepreneurs Workshop, Jessica de Abreu (GRS '22, PhD neural engineering) went on to become an innovation fellow at the Harvard HealthTech Fellowship where she uses the very framework she learned during Case Western Reserve University's immersive four-day program. The NeuroDesign workshop, which took place again last month at think[box], focuses on building entrepreneurial skills in neurotechnology using the proven Biodesign method from Stanford University, which believes innovation is a process that can be learned, practiced and perfected.
"Learning the fundamentals of the Biodesign framework and gaining hands-on experience using it, even if only for a few days, was invaluable for my current role," Abreu said. 
Last month, the university hosted round two of the workshop, welcoming 32 advanced degree students and early career professionals from around the world to think[box] for an immersive weekend of programming. Participants were situated into eight teams of four. The groups—made up of individuals from a variety of backgrounds, including research and development, finance, entrepreneurship and more—were tasked with identifying a problem or need in the market, inventing a solution to address the need and designing a business to support it in a healthcare marketplace. The teams have just four days to work through their ideas, develop concepts and pitch their final product or service to a panel of judges. 
"I wanted to attend the workshop because I wanted to learn more about the design and innovation process of neurotechnologies," Favour Nerrise, a graduate student from Stanford, said. "And I wanted to expand my community of fellow neurotechnology enthusiasts across diverse backgrounds and experiences."
To help them through different stages of the process and provide inspiration and insights, they heard from a variety of experts. This year featured experienced professionals from across the neurotechnology field, including entrepreneurs and venture capitalists, experts in law, regulatory and reimbursement, and executives from the three major strategic companies in the space—Abbott, Medtronic and Boston Scientific.
"The most inspiring part was when my team and I were stuck on an idea and all of our assumptions seemed to fall apart," Greta Preatoni, a PhD student at ETH Zurich and startup founder, said. "At that moment we had the privilege of being helped by several experts who didn't just give us a solution, but challenged us into thinking our way out of it. It was extremely inspiring and mind-opening."
Beyond solving a critical problem, the groups are challenged to work together, defining team norms and developing a strong working relationship in just a matter of days. 
"The most impactful part was seeing our idea come to fruition as a proof-of-concept and story that could accomplish our strategic focus of improving patient care," Nerrise said. "As we stayed up the last night of the program consulting various experts and putting together essential elements of our pitch, I was deeply inspired seeing all we had learned from the faculty and our experiences put to practice."
"Case Western Reserve operates at a unique intersection of talents," Andrew Cornwell, program director and associate director of the Case-Coulter Translational Research Partnership, said. "With world-class expertise in engineering education, neurotechnology research and neurological clinical care, CWRU is an ideal location to host some of the world's top emerging talent in the field."