CWRU brings home first place at Autonomous Snowplow Competition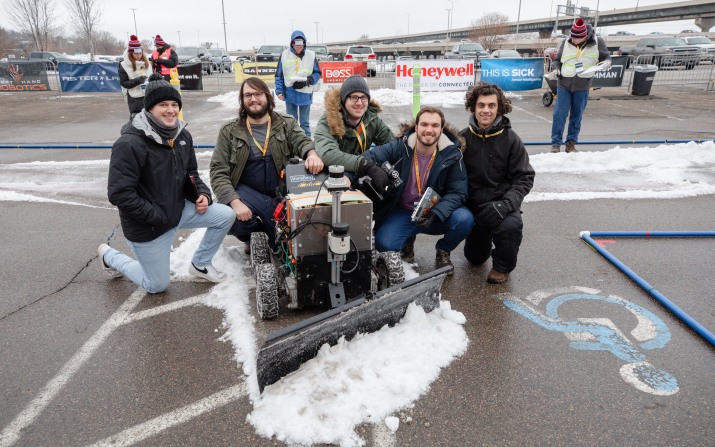 Published on
Feb. 23, 2023
Case Western Reserve University brought home first place at the Autonomous Snowplow Competition (ASC) in January, but the road to number one had some bumps. 
With the aim of challenging students in the areas of robotic navigation and guidance, the ASC tasks student teams with constructing robotic snow plows that must clear an artificial test course filled with snow. Ian Adams, Shane Riddle, Clayton Jackson, Austin Mills and Nathan Mengers are the PhD students and Biorobotics Group members that took on the challenge.
Teams scored points through a variety of activities. First, prior to the actual competition, preliminary design presentations and a team poster provided points. At the actual competition, teams take turns in a best of two format, attempting to plow the competition field autonomously, avoiding obstacles, remaining in bounds and returning to a designated garage area once complete. They are scored based on the number of obstacles hit, amount of snow cleared and ability to return to the designated area. 
After being randomly assigned the first slot in the morning trial, the team pulled an all-nighter for test runs. 
"Just before 9 p.m. we encountered an issue that would plague our runs for the next day," Adams said. "A bad circuit breaker."
The robot is expected to pull a large amount of current when operating, and even more under a heavy snow load, but the incorrect type of breaker and active breakdowns were preventing the robot from  performing even a moderately difficult motion without tripping the hair trigger circuit breaker. 
"We devised a way to prevent it from triggering, and turned in for a brief two hour nap before having to get ready for our run," Adams said. "I wish I could say the first run went well, but it went as expected. The robot maneuvered into some snow, before repeatedly tripping the breaker and needing full restarts. Our score for the first attempt was only good enough for second to last place."
After the first run, the team searched local auto parts stores to dig up a suitable replacement for the circuit breaker before their afternoon time slot. After trial runs with a new part, the team discovered another problem—the navigation system only worked sporadically. 
"In certain conditions it performed fine, but in others it would seize and do absolutely nothing," Adams said. 
In a rush, the team decided to rewrite the code, using older code from last year, rather than trying to polish the current. 
"Our last test run wasn't great but our time was up," Riddle said.
On their walk to the testing site, Riddle and Jackson manually edited some of the waypoints. With no way to test their last minute fixes, they pushed start.
"The robot worked better than we ever hoped," Adams said. "The only points where we were concerned were the turns around the obstacle, which thanks to the last minute tweaks, worked perfectly. The robot neither hit obstacles nor left the competition field, and ultimately returned to the garage zone for a pretty perfect run, as much to the shock of the judges as ourselves."