Case Western Reserve University welcomes students from India through new partnership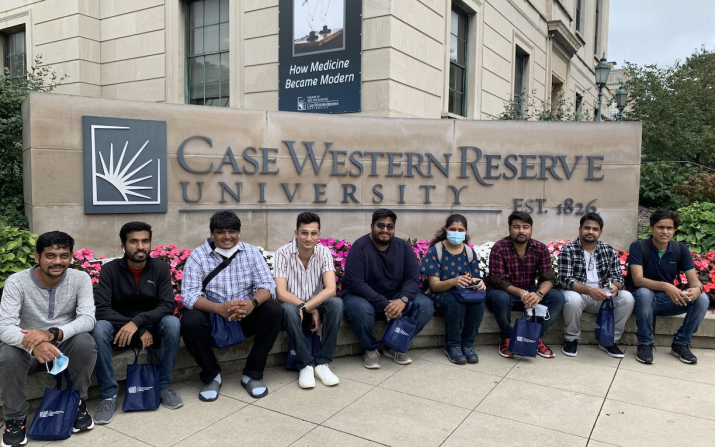 Published on
Sep. 15, 2021
Despite travel plans complicated by the COVID-19 pandemic, a cohort of 20 students from India is now settled at Case Western Reserve University (CWRU) and engaged in fall semester courses to earn a master's degree in biomedical or mechanical engineering as part of a new initiative.
The program is made possible through the Case School of Engineering (CSE) and Case Western Reserve's Siegal Lifelong Learning program in partnership with INSOFE, a research, consulting and graduate education institution in Hyderabad, India. Students based in India begin with courses in data science at INSOFE, followed by coursework at CWRU to complete their master's degree in about 16 months.
"Global collaboration is a key component to advancing engineering education and research to address some of the most pressing issues we face today," said Venkataramanan "Ragu" Balakrishnan, the Charles H. Phipps Dean of the Case School of Engineering. "This partnership is an important example of how we can work together to celebrate different perspectives and support the engineering leaders of tomorrow."
One student in the cohort, Arshad Mohiuddin, became interested in biomedical engineering after completing his master's in computer science in India. Through his research, he learned about the CWRU/INSOFE program and felt that "achieving a degree from such a prestigious university would be great for comprehensive development and would also bring great career prospects," he said. "I'm amazed at the number of resources and support for the students the university has to offer."
"We are excited to have students from INSOFE join us as part of the CWRU community," said Sunniva Collins, CSE's associate dean for professional programs. "This innovative model for blended instruction between the two institutions provides a unique learning opportunity for these international students."
Sushmita Nandi had never been to the United States before coming to CWRU to earn her master of science in biomedical engineering with a specialization in digital health analytics. Nandi was working in banking and finance in India when she became interested in a career change based on demand in the biomedical field.
Nandi said she has been pleased with her experience, both academically and personally. As she completes her degree at the end of the semester, she will leave Cleveland with fond memories.
"CWRU has a lot to offer to each and every student, opportunities are unlimited and there are a lot of options to do here beyond studies," Nandi said. "It's unfortunate that my stint is coming to an end, but CWRU will be there with me for a lifetime now."
"We are pleased to welcome this group of students from India to our campus through this unique program," said Brian Amkraut, executive director of Siegal Lifelong Learning. "The partnership with INSOFE gives students the opportunity to build a foundation in data science in combination with an engineering degree to open doors for career opportunities in the U.S., India and around the globe."
---
Case Western Reserve University's Siegal Lifelong Learning Continuing Professional Studies division offers innovative and engaging programming to enhance careers through bootcamps and certificate programs. For more information, visit case.edu/cps or call 216.368.2090.