Baja SAE team breaks university records, brings home first place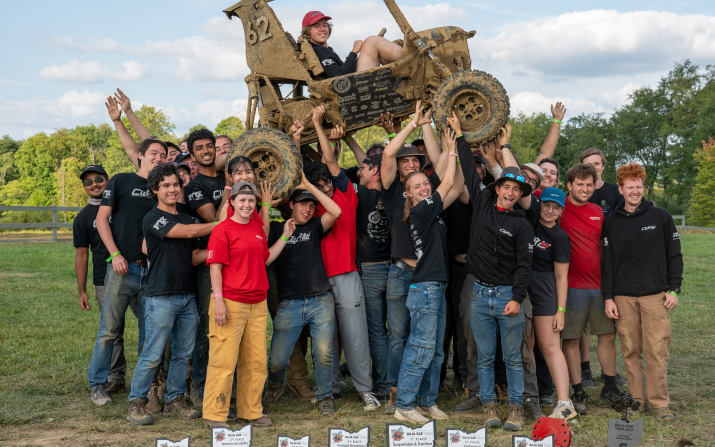 Published on
Oct. 6, 2023
Hard work, determination, a rigorous mindset, attention to detail and group effort. Those are just a few of the qualities it took for the Case Western Reserve University Baja SAE team to bring home first place at the most recent competition—shattering university records. 
"It means everything," Liam Flanagan, finance and logistics lead, said about the victory. "I'm not exaggerating when I say that me and many other critical members of this team have spent tens of thousands of hours collectively designing, manufacturing and validating this car."
From 12-hour days during spring break to late nights running simulations on the fourth floor of Sears think[box], the team didn't leave anything up to chance—a mentality instilled in them by last year's team captain, Bryan Levine, who cultivated a "rigorous mindset" meaning more thorough analysis of all components, more meticulous vehicle assembly and a more extreme testing process.
"I made sure everyone understood that the idea of 'it probably won't break' isn't good enough," Levine, fifth-year mechanical engineering student, said.
To achieve this, Levine made sure no one was working in a vacuum. By fostering collaboration, he was able to better monitor quality control. When a fresh set of eyes looked at another group's work, it encouraged new perspectives and helped uncover mistakes in the design of the vehicle.
In June, the team's leadership transitioned, making Samantha Hepp the new team captain just months before the last competition of 2023. So while Levine and last year's executive team oversaw the construction of the car that won big, Hepp and the new leaders were responsible for managing the event—their first ever.
"It's a really challenging experience to have a competition in your second week of classes," Hepp, fourth-year mechanical engineering student, said. "But if you treat it as the opportunity to set a precedent for your team and set a precedent for what you're trying to do together and how you do it together, it can be really good. And this last competition was really good." 
With a combination these mindsets from past and present captains, the team ended the 2023 season in fourth place overall and at the Ohio competition in September they placed first place in suspension and traction, second in maneuverability, third in acceleration and twenty-eighth in pilot pull, earning them the spot at the top out of 77 other teams.
"While our car was built in a year, our success didn't just come from this current team," Anish Khot, testing lead, said. "But from all the alumni who came before us and gave us a foundation to innovate and iterate on."
Now, they start over from scratch. By April, the team will construct a brand new single seater race car with a team that has nearly doubled in size since last year. 
"My favorite part of each year occurs right after orientation week, as we start to get a trickle of new students coming to the fifth floor of think[box] to see what our team is about," Flanagan said.
Hepp, Levine, Flanagan, Khot and Ryan Eaton, stressed that anyone can join the Baja SAE team at CWRU. Members don't need any prior experience. Take it from them. None of them had experience building cars before they joined the team, but they were drawn to the passion of the group, were willing to learn and eager to put in the time.
"Any type of knowledge is something you can apply on the team," Hepp said. "Everyone knows something and has a skillset in something. Whatever your thing is, we will find a place for you here."
One thing they all have in common—they are on this team and they put in the work because they love it. 
"A lot of people pour literal blood, sweat, and tears into the car," Eaton, panels and composites lead, said. "I think everyone involved with the team learns about what it means to be an engineer. At the end of the day, those are the things to be proud of."