Alumnus and two students launch startup aimed at cleaner water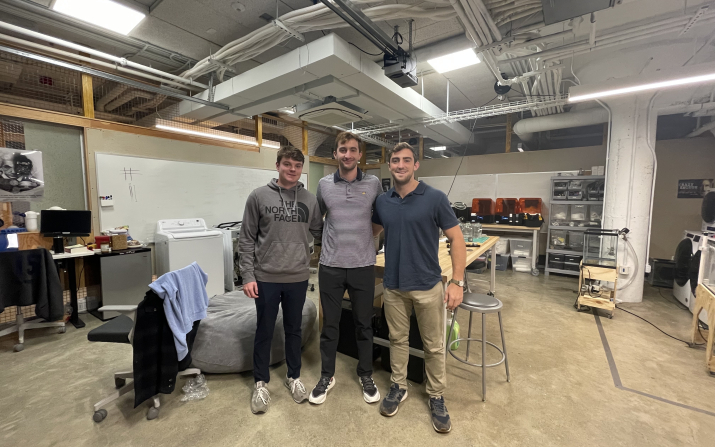 Published on
Nov. 16, 2022
It all started as a hobby driven by a simple fact: "94% of tap water in the United States contains microplastic fiber." Now, alumnus Max Pennington (CWR '22), and fourth-year students David Dillman and Chip Miller are co-founders of a business with cutting-edge, patent-pending technology that could transform the way the world uses water.
Developing the Solution
"No one seemed to be doing anything effective at removing it," Pennington, who was a fourth-year student at the time he started the project and CLEANR's CEO, said. "So when we found out that clothing was the number one source of that microplastic fiber in tap water and into the environment and our bodies, we thought, 'It has to be straight forward to filter out washing machine waste water' and we came to think[box] and started creating prototypes."
The university's makerspace, think[box], was and still is an integral part of CLEANR's success. In the company's early days, the trio utilized the 3D printing machines to create their very first prototypes—a lot of them—and by October of 2021, they moved into their official headquarters, "The Garage,"  a seventh-floor office space designated for student startups.
"We thought it would be easy," Miller, the company's COO, said. "It was not easy, but we kept trying."
After developing a product that was seemingly great at filtration, they realized it couldn't be properly attached to a washing machine, but keeping the hope that the next device would be the one that worked, they continued printing different ideas. Six months later, they had their product.
"Now, we have a product at the top end of the market in removing microplastic from washing machine waste water," Pennington said.
Forming and Growing a Company
With a usable filter in hand and news of France's passed legislation that filters would be required on all washing machines by 2025 with similar pending legislation in four other countries, the team leaned into CWRU resources and connections. At the start of spring semester Pennington, Miller and Dillman attended the Consumer Electronics Show, with the help of LaunchNet, and back on campus enrolled in a newly created entrepreneurship course, VEAL333: Global Technology Management. (The CLEANR co-founders talk more about the impact of this course in this series of videos.) 
"For the first six months, this was just a project we liked doing," Pennington said. "Then at CES, we finally started thinking we needed to make this a company and while we were there, we learned how to pitch. Then, through Michael Goldberg's class [VEAL333], we met a few investors. So, we learned how to pitch, then we found the right people to pitch to and now we are developing in the right way." 
Just 16 months after discovering the problem, CLEANR has five additional teammates, a group of advisors and a deal with Case Western Reserve University that is in the pilot phase, with a percentage of the on-campus washing machines equipped with CLEANR filters.
Now, the growing team has their eyes set to the future with two major goals—developing leadership skills to ensure CLEANR is a good place to work and expanding the impact of their product worldwide.
"Our goal is to remove all microplastics from the environment, starting with getting a CLEANR washing machine filter on every single washing machine produced annually, which is about 160 million," Pennington said. 
Entrepreneurship at CWRU
Because of the resources available to students at Case Western Reserve University like think[box], startup competitions, specifically Morgenthaler-Pavey Startup Competition, and the Student Project Fund, CLEANR was at an advantage compared to the competition. 
"We were in such a different position than most companies," Pennington said. "Having a fully developed prototype had us really differentiated in our raise. It would've cost a ton of money if it wasn't for think[box]."
Dillman, the company's CTO,  and Miller eagerly chimed in to add "we couldn't have done it" and "it wouldn't have been possible" all at once. 
"We are grateful to Case Western [Reserve] for helping us get to where we are at now," Pennington said. "Nothing that we've done so far would be possible without the networks they've helped us build, the alumni being willing to invest and teach us, Michael's class, and think[box] in general."
Beyond the goal they have for CLEANR, Pennington, Miller and Dillman hope to encourage other students to pursue a startup journey and urge those interested to reach out to them for guidance and support.
"I'd love to see more students try to do this," Dillman said. "Success doesn't always happen the first time—we failed so many times when we were doing this—but we'd love to see this floor full of students."