On air: A glimpse into one student's college radio experience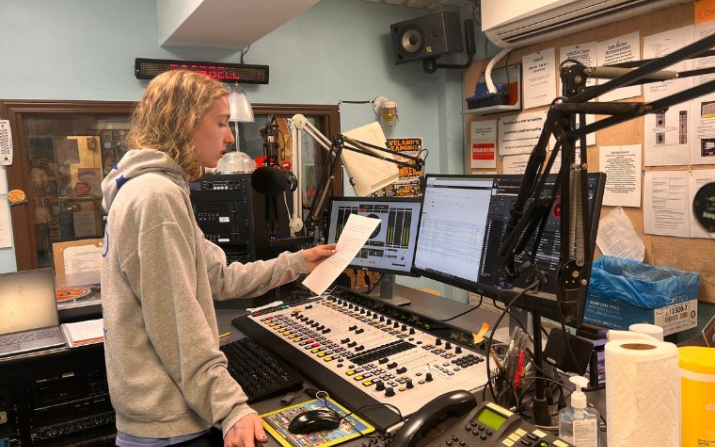 Published on
Nov. 6, 2023
The familiar tune of The Jackson 5's 1970 hit, "ABC," flows through the speakers in the basement of the Mather Memorial Building. Jago Dorn, a second-year undergraduate student majoring in systems and control engineering at Case Western Reserve University, is the only one in the room to hear it. That is, except for all of WRUW 91.1 FM's listeners—both over the airwaves and the station's online livestream.
Dorn, one of 84 programmers at WRUW this semester, is new at the student-run station, which has been broadcasting for more than 75 years. His show, "Tracing Time," fills the 9–10 a.m. time slot on Tuesday mornings and celebrates sampling in music, a practice by which artists take a portion of one track and use it in a new song. Dorn's focus is primarily on songs from which rap artists have sampled; he often aims to air both the new song and the one that inspired it to allow for comparison.
The result is a widely varied hour of music, which during a recent show included the likes of AC/DC, Manu Dibango, Michael Jackson, Ice Cube and David Bowie.
"I thought this would be a good show premise as it's informative and allows me to play songs across genres. I don't do a ton of talking during my shows, mainly I just introduce the songs and highlight the connections between songs," Dorn said.
Arriving about 30 minutes before his show, Dorn has already done the bulk of the work; he's spent several hours selecting content and writing out a script to read between songs. It's a daunting task—Dorn has more than 1.4 million songs to choose from. While the songs he selects are in a digital format, programmers can sift through rooms-worth of CDs, records and cassette tapes.
Once in studio C, Dorn's main responsibility is making sure it all goes smoothly. That starts with checking to make sure the robot that controls pre-taped shows is working properly and makes the switch to his live show. Surrounded by technical equipment and notices reminding on-air talent of station policies and procedures, Dorn turns up the mic and the "on-air" sign lights up as he introduces himself and previews the hour ahead for listeners.
Then, it's mostly a waiting game. He quietly keeps track—with his textbook out to study for an upcoming exam—and remains ready to jump in to "dump" an expletive in a song and prepare for his next speaking break. His script is less than a single typed page, but is full of everything he will need to say over the hour.
Once he signs off his show, he has one last check before he heads to the door: once again checking to make sure the robot has taken over and is streaming the pre-recorded show after his.
About WRUW
Dorn's show fills just one hour of the station's 24/7 programming—all centered on the station's "more music, fewer hits" motto. While some of the programmers are students, like Dorn, filling breaks between classes with their shows, others are members of the local Cleveland community and CWRU alumni. 
This semester, there are 16 student programmers. Vani Subramony, general manager of the station and a third-year undergraduate student, said the station is looking to bolster those numbers.
Want to get involved? Connect with a member of the station's executive staff; Subramony and Oscar Badillo, the station's operations director, are the best contacts. To have a show, students must participate in a semester-long training process that involves shadowing a current programmer and test.
Find out who's on air now—and tune into WRUW FM 91.1 on your radio.