Adriana Velazquez Berumen from WHO Visits The Center for Engineering Action
Published on
Apr. 11, 2019
When Center for Engineering Action Director Andrew Rollins was asked to suggest a keynote speaker for the Engineering Week 2019, there was no hesitaiton: Adriana Velazquez Berumen.  Rollins felt there was no one more appropriate to celebrate the 50th anniversary of the Department of Biomedical Engineering than Berumen.  A '86 graduate of the Clinical Engineering Master's Degree Program Berumen now serves as Senior Advisor of Medical Devices at the World Health Organization (WHO).
The two met in March 2017, while Dr. Rollins was traveling with study abroad class and Ms. Beruman was attending a biomedical engineering conference in Kampala, Uganda.  She heard about a team of CWRU students who were working with Makerere University students on medical device design appropriate for low resource settings. Excited, Ms. Berumen sought them out.  She and Rollins were able to connect.  A year later, Rollins recalled the chance encounter and saw an opportunity for students to hear how engineers truly can impact the world.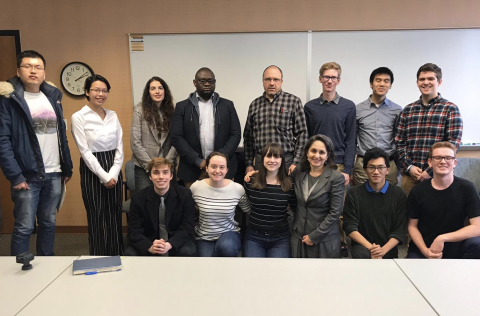 While Beruman's Reception address was inspiring to all in attendance, her work didn't stop there.  During her two day visit, Ms. Beruman spent time with several engineering groups as well as the Center for Engineering Action Personnel.   She spoke with students from CWRU MedWish on the importance of careful and responsible medical device donations.  She listened to presentations from several Global Health Design Collaboration Teams and shared her insights and feedback on their projects which include a pediatric Pulse Oximeter and a Vaccince Carrier.  She also spent time with faculty and staff discussing ways for build collaborations and increase our impact.  The Center for Engineering Action is indeed grateful for the opportunity to visit with such an accomplished and inspiring engineer!
Read more about Adriana's E-Week Reception Address.