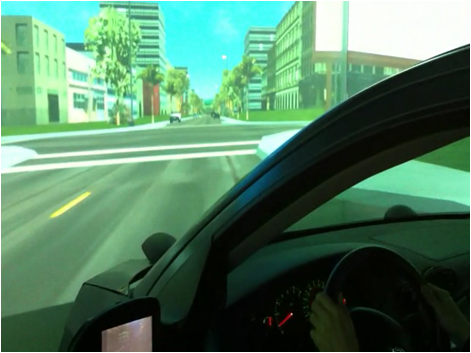 Two fidelity driving simulators are hosted at the Haptic Interface Laboratory of Case Western Reserve University. The simulators are used for research in the areas of transportation safety improvement, driver cognitive feedback, human factors, human machine interfaces, rehabilitation, prosthesis, etc. 
The simulator is a fully integrated, high performance, economic, and high fidelity driving simulation system (a complete car simulator) designed for use in ground vehicle research and training applications. It includes multi-channel audio/visual systems, customized 360° wrap around display (the first one of its type installed in the United States), full-width automobile cabinet including windshield, driver and passenger seats, center console, dash and instrumentation, automatic transmission, two side and one center rear view LCD mirrors (all three rear view mirrors are provided in the form of mounted LCD panel displays integrated with the cab), plus real Motion™ platform (longitudinal and pitch) for real time vehicle motion simulation (Fig.  1a). 
The Q-Motion™ provides coordinated inertial cues representing the onset of longitudinal acceleration and deceleration while driving the simulator. Q-Motion's vestibular cues may assist driver performance in speed management, especially braking judgment and control, and add to the overall realism of the driving experience. The simulator's digital sound system includes four wide-range speakers surrounding the driver and a powered subwoofer. In addition to holistic simulate driver-road interactions, the driving simulator provides up to 120 channels of data output. These include data about speed, steering, gas pedal, brake, offset from center of lane, left and right turn, etc. This allows for a detailed examination of the driver's performance under specified driving scenery.
See a demonstration of the driving simulator.
Contact:  Xiong (Bill) Yu, PhD, P.E., Professor, Department of Civil and Environmental Engineering, Director, Haptic Interface Laboratory, 10900 Euclid Avenue, Bingham 206, Cleveland, OH 44106,  Phone: 216-368-6247, Email: xxy21@case.edu