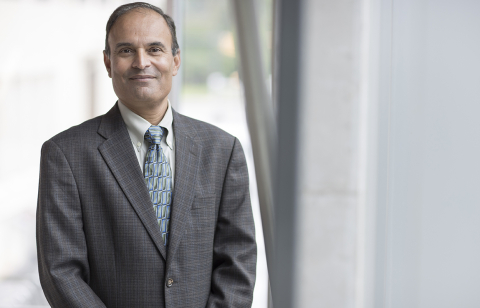 I am thrilled to be joining the Case School of Engineering as dean at the start of the 2018-19 academic year, and I invite you to learn more about this great institution. I am certain that you will be as impressed as I was with Case's sky's-the-limit mentality and genuine focus on making this world a better place for us all. Already, I have been struck by the passion for learning and the creation of new knowledge that hums steadily on this campus—from inside and outside the classrooms to research labs and in partnerships across the city and over the world.
Case School of Engineering at Case Western Reserve University traces its roots back 138 years, and throughout that time it has built a strong reputation of excellence in education, research and community engagement. We have a history of making history, from Nobel-Prize-winning breakthroughs in MRI to launching first-of-their kind degree programs to opening one of the world's largest campus-based innovation centers.
I hope you will be as impressed as I was when I first walked the floors of Sears think[box], a 50,000-square-foot innovator's paradise that is open to everyone, from students all across campus to community members, faculty and staff. Here, you'll find brainstorming and collaboration space, prototyping and fabrication equipment, legal and business support, and incubator space. The centerpiece of our ecosystem of innovation, it has helped support student, alumni and community startups achieve more than $10 million in investments. And this open-access approach has been so well received, dozens and dozens of institutions around the world have used our model as a template for their own spaces.
I hope you will choose, as I so enthusiastically did, to become a part of the Case School of Engineering community.
For undergraduate students, the recently updated curriculum—which touts hands-on learning from day one—has been complemented by a new peer advising program that easily links new students with seniors who can ensure they make the most of their years at our school. At the graduate level, we offer unique master's degree programs like Engineering and Management—a joint program with the business school—and opportunities to become expert in areas such as Translational Health Technology and Fire Science. Four of our master's degrees are also available 100 percent online. And our PhD students are crucial partners with our faculty as they both learn and create on the leading edge of science and engineering.
Our more than 120 faculty comprise some of the foremost experts in their fields and nurture a hunger to solve some of the world's most pressing technological and societal problems. Their research portfolios are finding solutions to everything from restoring the sense of touch to those who have lost limbs, to creating the modernized grids, storage systems and critical foundations needed to usher in the new era of sustainable energy, to harnessing the power of the Internet of Things via our new Institute for Smart, Secure and Connected Systems.
With more than 20,000 alumni around the world, the Case School of Engineering community offers a robust network that mentors and creates opportunities for our students and graduates, provides crucial input on the strategic direction of our school, and buoys our growth with generous philanthropic support.
I hope you will choose, as I so enthusiastically did, to become a part of the Case School of Engineering community. Prospective undergraduate students can schedule a visit, interested graduate students and research partners can read our latest research news and alumni and industry partners can explore the many ways we work together.
Sincerely,
Venkataramanan "Ragu" Balakrishnan
Charles H. Phipps Dean, Case School of Engineering