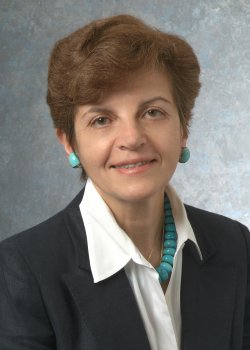 Ica Manas-Zloczower
Distinguished University Professor
Thomas W. and Nancy P. Seitz Professor of Advanced Materials and Energy
Professor, Macromolecular Science and Engineering
Engineering new materials and technologies for industrial applications
Office:
Kent Hale Smith 515
Phone Number:
(216) 368-3596
Education
Sc.D., Chemical Engineering, Technion-Israel Institute of Technology, 1983
Awards and Recognitions
2017
,
2017 SPE Fred E. Schwab Education Award
,
Society of Plastics Engineers
Research Interests
Modeling mechanical properties for nanocomposite materials.<br>High internal phase emulsions.<br>Structure and micromechanics of fine particle clusters. Interfacial engineering strategies for advanced materials processing.<br>Dispersive mixing mechanisms and modeling.
Teaching Interests
Fundamentals of Polymer Processing<br>Mixing Fundamentals
Institutional Leadership/Administrative Assignments
2008 - 2013, Associate Dean, Case School of Engineering
Patents Received
2017, "Method for the Production of High Internal Phase Emulsion Foams," 9574058B2, Ica Manas-Zloczower,

Donald Feke

, Stuart Rowan,

Cody Bezik

,

Steve Merigan

.
2017, "Method for the production of high internal phase emulsion foams," 9,574,058,

Donald Feke

, Ica Manas-Zloczower, Stuart Rowan,

Reza Foudazi

,

Cody Bezik

,

Steven Merrigan

.