"Team Cleveland" Cybathlon Entry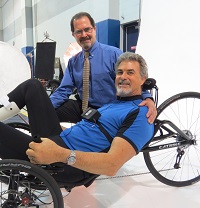 Advancements in implants are allowing individuals with paraplegia from spinal cord injuries to pedal recumbent trikes over ground with their otherwise paralyzed legs. This entry to the "Cybathlon" 2016 competition in Zurich, Switzerland utilizes an instrumented recumbent trike that senses crank angle and controls a surgically implanted neural stimulator to activate the appropriate muscles to propel the cycle forward.
Jaswig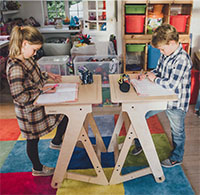 This locally-made adjustable-height stand-up desk, prototyped in think[box], is being used in homes, offices, and schools around the world. Stand-up desks are shown in educational settings to improve focus and cultivate a dynamic learning environment with improved teacher-student engagement. The company co-founders include Mathias Ellegiers, an alumnus of the CWRU MEM (Master of Engineering and Management) program.
Edge-lit Mural at Facing History New Tech High School
Progressive Arts Alliance collaborated with Facing History New Tech High to create the LED edge-lit Mural. The FHNT students selected images and rendered the images using Adobe Photoshop. The images where then laser etched onto plexiglass and put into edge-lit wooden frames. The frames were made by PAA artist-educator Ben Horvat and Ainsley Buckner at think[box].
Krishna Sculpture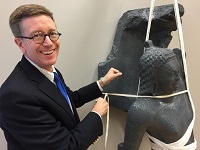 The government of Cambodia returned a sculptural fragment after 3D scans show it fits Cleveland Museum of Art's Krishna. This collaboration between the Cleveland Museum of Art and think[box] involved a multi-day 3D scan of the museum's Krishna sculpture, followed by painstaking work aligning a scan of the fragment with the scan of the sculpture to see if the section in Cambodia belonged to the museum's monumental sixth-century stone carving of Krishna. Read more here.
Bone Quality Predictor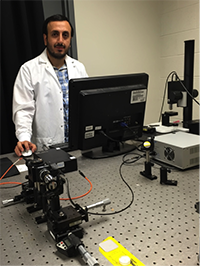 PhD Candidate Mustafa Unal in Dr. Akkus' Case Orthopaedic Bioengineering Laboratories won a Baxter Young Investigator award for his work on this Bone Hydration Detector, supported in part by the think[box] Student Project Fund. Traditional Raman spectroscopy offers a non-destructive way to measure chemical composition of various biological minerals and compounds, however protein-related background fluorescence makes it difficult to detect water content in biological tissues. A novel improvement to Raman spectroscopy has made it possible to detect water content in bone - and to uniquely measure different bound water components and freely flowing water. This novel measurement of hydration status was then used to predict bone quality.
Parihug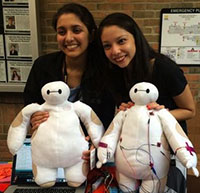 Parihug makes electronically-connected teddy bears, that let loved ones hug each other from a distance. Two people can be on different sides of the world, each with their own bear. When one is hugged, a suite of soft, fabric-based sensors detects the hug and transmits a message to the other bear. The receiving bear then hugs its owner with a gentle vibration-- haptic telepresence! The bears allow loved ones to connect with each other when they physically cannot be together, and brings the humanity back into technological connection. The sensor suite was made from scratch, with each sensor being developed to be soft as to not compromise the huggability of the toy, rather than stock metal sensors. They are comprised mainly of a material called velostat, a pressure sensitive conductive sheet made of polymeric foil impregnated with carbon black. Watch video here.
Lexus Heartbeat Car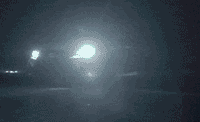 Using electronics prototyped in think[box], this Lexus car uses Lumilor electroluminescent paint to turn the heartbeat of the driver into a light show.
Process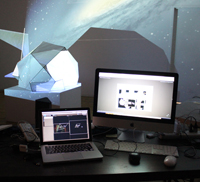 Irina Spicaka of Latvia, a CEC Artslink fellow and SWAP resident with SPACES initiated this 3D projection mapped art installation while presenting a workshop with partner Krisjanis Rijnieks introducing the basics of projection mapping. This series could only be held at universities with the fabrication facilities to build the forms on-site. By utilizing think[box] this presentation could be held here in Cleveland. Both Irina and Krisjanis are members of Creative Coding for Live Audio and Visuals (CC4AV), an organization hosting events and workshops for software, hardware, video, and audio development.
Vertical Axis Wind Turbine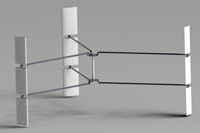 You can see this vertical axis wind turbine in action at the Case Western Reserve University Squire Valleevue Farm where it powers lighting and data acquisition systems that allow oyster mushrooms to be grown year-round. Cost, location, and performance were carefully considered in the deisgn process to reduce dependence on grid-fed, non-renewable energy during operation. The Bingham Shop and staff aided in the machining and fabrication of the finished product.
Eye Clinic Camera Phone Alignment Tool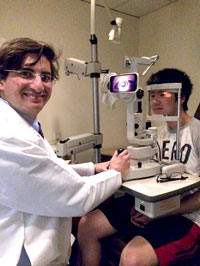 This customizable smartphone case is being used in an eye clinic to help teach students and document eye conditions without the use of expensive photography equipment. Dr. Rony Sayegh and Dr. Charline Boente of the University Hospitals Department of Opthalmology worked with Ethan Tu of Case Western Reserve University on this adaptor case which connects a smartphone to the slit-lamp - a magnifier used in eye clinics to examine the eye - allowing medical students and staff to acquire high-definition photos of the eye using any phone. The smartphone was scanned using a high-precision 3D scanner, then a case for the smartphone was modeled in AutoCAD and 3D printed.
Pages