Bubble-Blowing Device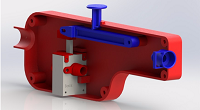 This modular hand-held bubble blowing device is intended to be used to demonstrate gas properties to young children during in science demonstrations. Compared to other demonstration set-ups, this device don't involve heavy gas tanks or tubes. Balloons are inflated and securely sealed with the designed balloon clip that attaches to the back of the device. Once the balloon air is released into the device, bubbles of all shapes and sizes and be blown, including balloons filled with propane or other flammable gases, which can be lit on fire.
Re:Inspire - Media Art X Education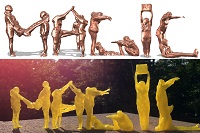 Taiwan-based Creative Fusion artist Jia-Hua "Dudu" Zhan energizes everyday life through her interpretations of experience. At this event viewers witnessed work done by DuDu independently and in Northeast Ohio schools which utilize new technology. The multi-media exhibit features interactive paint, 3D scan sculptures, and motion-tracking projections to inspire audiences to rethink the world around them
Occupy Everything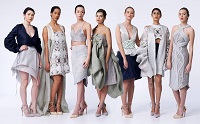 "Occupy Everything" is a demi-couture collection created for Kent State University's Annual Fashion Show, FS2: Crescendo. In collaboration with Kurt Nelson, a senior architecture student at Kent State, Kara Kroeger designed a capsule accessory collection of bracelets, a belt, and shoe covers with the 3D printer at the think[box] at Case Western University. The belt is visible in the photograph on the third model from the right. The other pieces are not shown in this image.
iStrab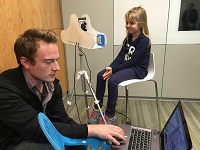 LYGENT is developing a novel, easy-to-use vision screening tool called the iStrab™. Once FDA cleared, it will afford providers with a quick, automated assessment of eye misalignment and other prevalent vision problems. The iStrab™ is intended to be an effective aid in clinical treatment and its simplicity and low cost should increase access to appropriate vision care for millions of people across the globe.
Condado Tacos Signage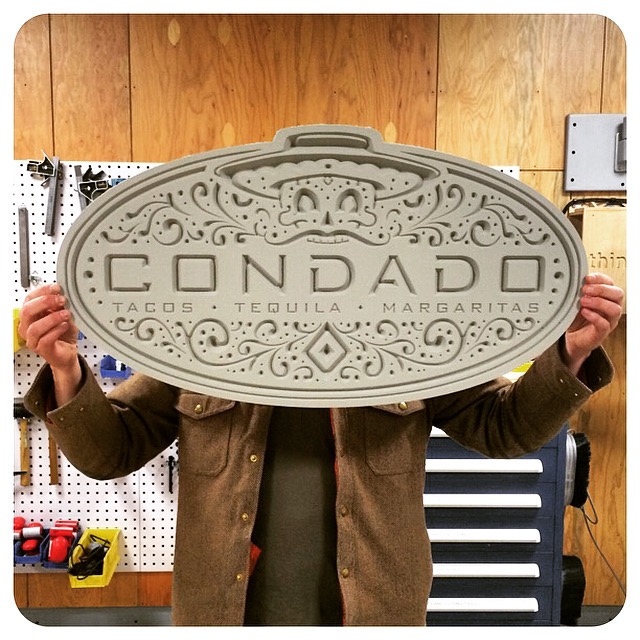 This custom exterior signage for Condado Tacos in Columbus, Ohio was made from SignFoam on the ShopBot with a v-carve bit.
Anatomical Study of Tibia Specimens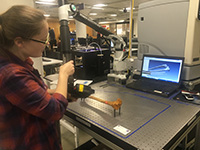 This anatomical study uses the Hammond Todd collection at the Cleveland Museum of Natural History to look at how different cut angles for distal tibial osteotomies affect ankle alignment. Plastic replicas of tibia specimens with rotational deformities are created for the study using a combination of 3D scanning and 3D printing.
Modular Playground System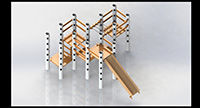 SHAPES (Scalable Hazard-less Assembled Playground Equipment System) is a modular playground design system for children aged 6-9 to imagine and build their own unique playgrounds. SHAPES is meant to be low cost, light weight, and quickly constructed to minimize risks, maximize active play time, and encourage design variation. SHAPES was created in order to entice children's interest in the STEM subject areas through teamwork, play, and fun.
The Brain Blocks Project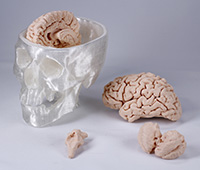 This 3D print project was adapted from digital brain scans acquired by the Harvard Surgical Planning Laboratory in order to investigate the evolving role of 3D printing technology in medical education. The project will begin fall 2016 at the Case Western Reserve School of Medicine and will compare the use of models versus traditional learning methods. The goal of the project is to determine if 3D printed brain parts, pieced together by students, will enrich the Neuroanatomy learning experience.
Portable Proximity Card Reader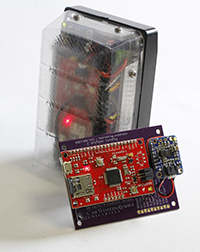 In an effort to streamline the process of checking students in at large events, Case Western's Student Affairs IT office has designed and made several hand-held proximity card readers compatible with Case ID's. This completely in-house design costs less, has a greater capacity, and is significantly faster than the previously used magnetic stripe card readers. These card readers are already in use for events such as the Career Fair and Thwing Study Over.
Binary Wind Turbine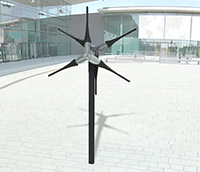 This patent-pending innovation in wind turbine technology involves two counter-rotating turbines connected through a novel drive train system. In this drive train, an "off the shelf" alternator is used to generate electricity, with one turbine used in the traditional manner to spin the alternator rotor while the second and counter-rotating turbine is used to spin the alternator stator by spinning the housing of the alternator. Testing data boasts a dramatic 30-35% increase in power output compared to traditional turbine arrangements, and decreases start-up wind speed to as low as 1 meter/second.
Pages