ELAC Control System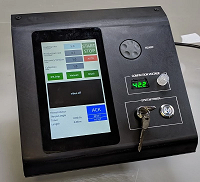 This user-friendly device controls and monitors a complex process for creating Electrochemically Aligned Collagen (ELAC) threads, a biomaterial used in orthopaedic repairs. ELAC threads are difficult to produce in the continuous lengths needed for practical application, but this system can automatically produce them to the necessary specifications. This controller oversees all production parameters and allows the operator to control all settings through a user-friendly interface with a live video feed. The project was funded by the Student Project Fund and used the laser cutter, wood shop, and tools in think[box].
Tabletop Robot Sign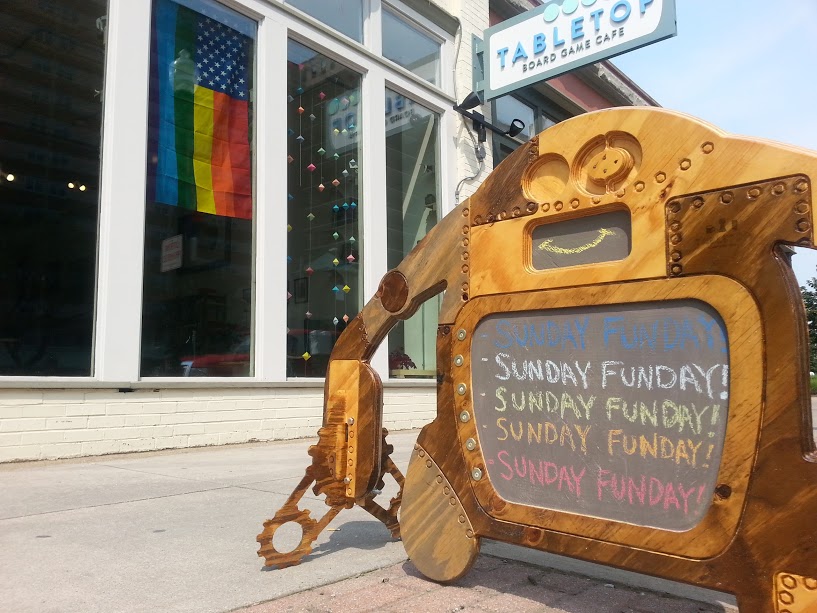 T-bot is a friendly face that welcomes all to the Tabletop Cafe in Ohio City. He was designed in CorelDraw and cut out of plywood using the Shopbot on the Fabrication floor. They also used copper tape and LEDs for extra "pizazz"!
Bilirubin Blanket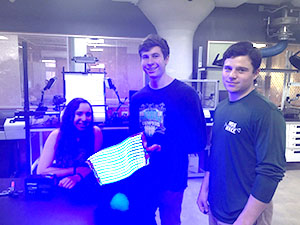 A Bilirubin blanket is a non-invasive light therapy treatment for babies born with jaundice. Bilirubin is a compound normally found in the body and responsible for a certain catabolic pathway in vertebrates, however excessive amounts of bilirubin in the blood can be problematic. Exposing the skin to a certain frequency of blue light has the effect of helping the body eliminate excessive amounts of bilirubin from the body.
Printmaking Plate
These handmade postcards are part of Cleveland Colectiv's line of unique, locally produced note cards and coasters. The artists of Cleveland Colectiv stamp their original artwork onto paper using a linoleum block in a specialized press. Typically the linoleum blocks are hand-cut for this process, but the artists found that they can use the laser cutter to produce thinner, crisper lines. Cleveland Colectiv's next project will be use the laser cutter's precision to help create multi-color print designs. Video: https://www.instagram.com/p/BbRwTGSFKPp/?taken-by=cle.colectiv
Product Runway 2017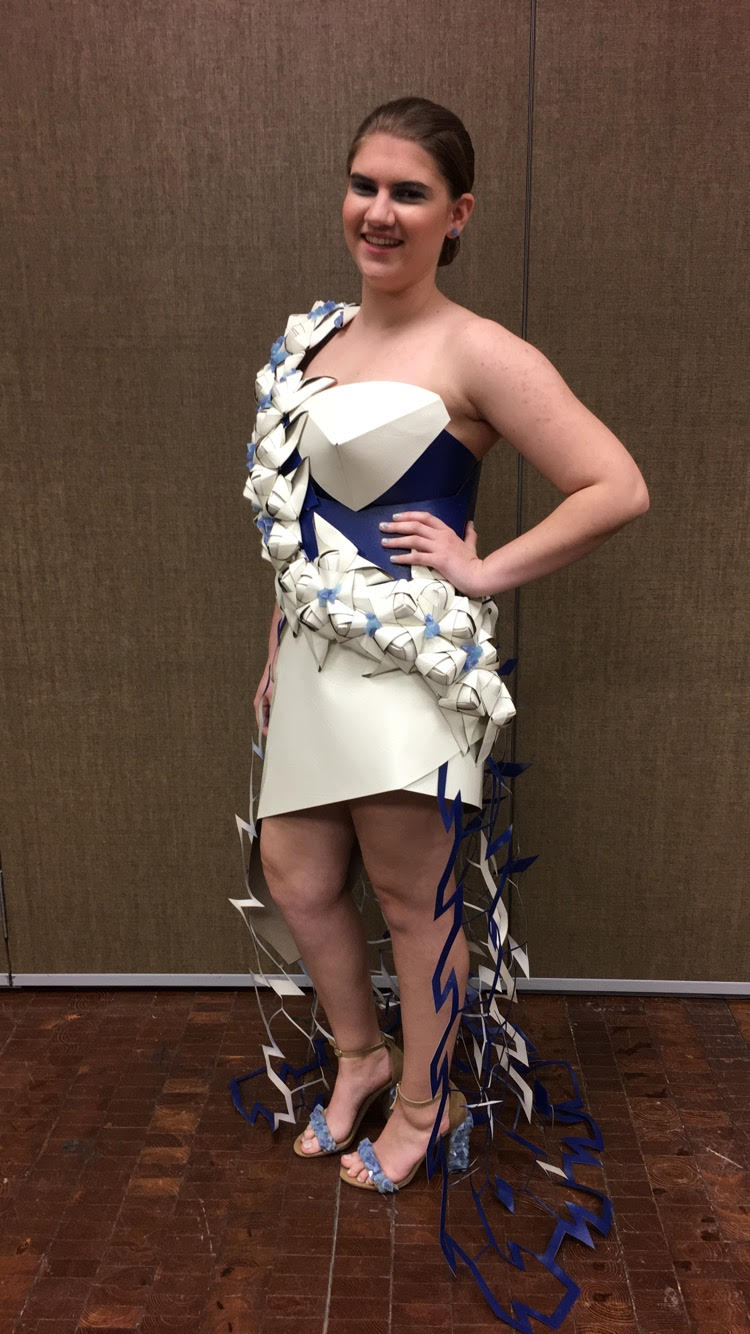 Designed for the Product Runway 2017 runway fashion show, this gown was crafted by Cleveland Institute of Art students in Interior Architecture and Graphic Design. The garment was made from leather laser cut at think[box]. The leather pieces were then hand-crafted into origami details forming a floral design across the gown.
LED Festival Jackets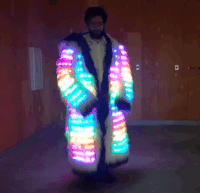 This pair of bluetooth enabled fur jackets feature more than 600 LEDs apiece and respond dynamically to the proximity of the other jacket in one of four lighting patterns including a rainbow, heartbeat, and ice/fire motif. Individually addressable APA10C LEDs enable vibrant, shifting colors, while the RFduino uses the strength of the bluetooth signal to rapidly compute what the jacket will look like every 16 ms. The electronics were assembled, soldered, and programmed in think[box] on top of the tailored jackets.
Deadpool Costume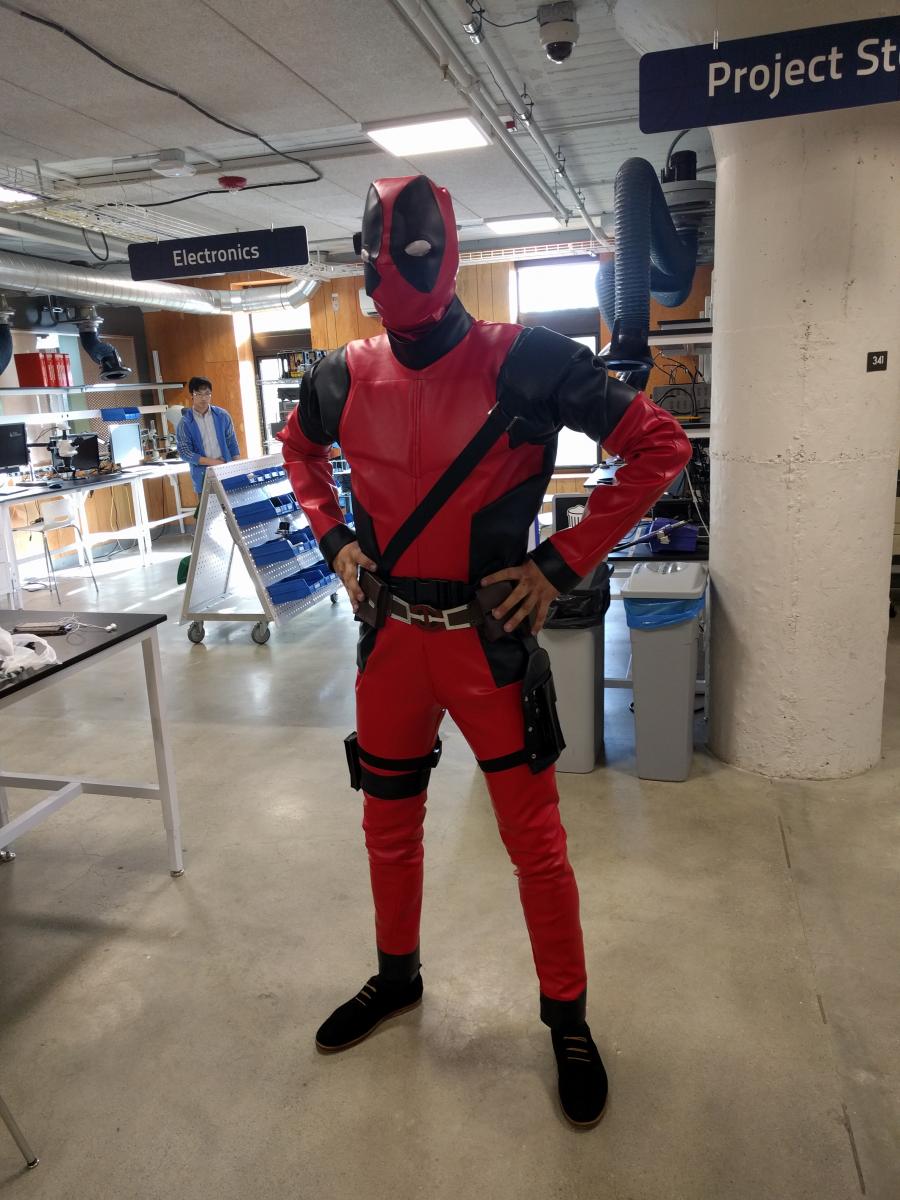 This comic book character costume was carefully crafted using cast off cinema clothing as a basis for the custom pattern. After the original pattern was modified to fit this particular merc with a mouth, the entire jumpsuit was sewn on think[box]'s sewing and embroidery machine.
2017 Mini Baja Competition Vehicle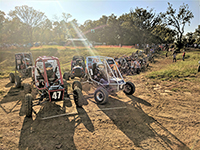 This 2017 competition vehicle for the Society of Automotive Engineer's (SAE) annual mini-baja competition received a 1st place trophy in Acceleration at the 2017 Midnight Mayhem competition in Louisville, Kentucky. This earned them pole position in the Endurance Race which immediately followed.
NASA Robotic Mining 2017 Competition Robot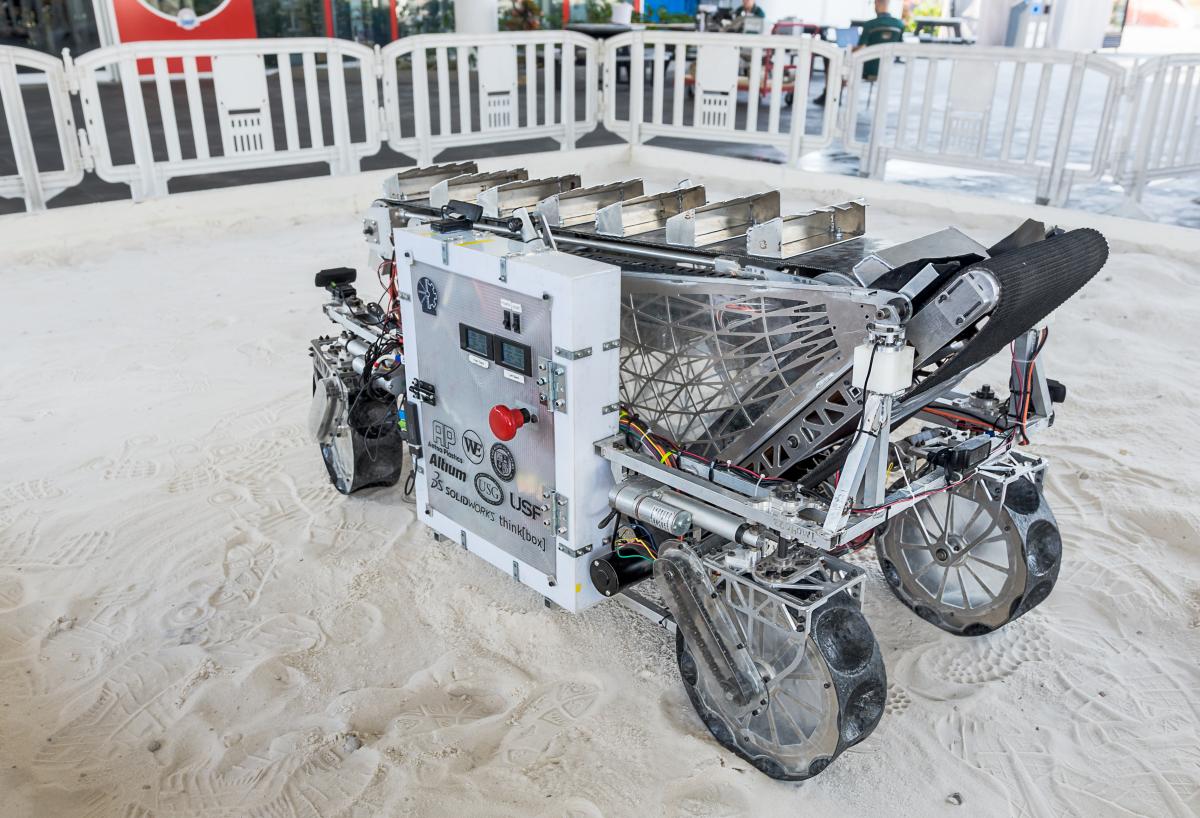 CWRUbotix participates in the NASA Robotic Mining Competition (RMC), a yearly robotics competition that encourages the development of innovative robotic mining solutions to support future space missions to Mars and beyond. The team designs and fabricates a new robot each year, building upon lessons learned from past entries. Notably, in 2017 the team developed a method of building stiff but lightweight parts using polymer foam encapsulated in carbon fiber.
Into the Woods Theater Set

The CWRU Footlighters constructed a wide and multi-leveled set complete with platforms, staircases, and props for their musical production of Into the Woods in Fall of 2017. This set was particularly complex to allow the large cast of characters to remain on stage for the entirety of the show. Over the course of a month, the students designed and built individual sections of the set in various locations before assembling the complete set on site in Carlton Commons. This student organization used think[box] tools and funding from the Student Project Fund to complete the production.
Pages