Topographical Map of Shanghai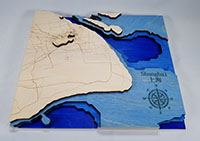 This topographical relief map of Shanghai, China was generated using the Geographic Resources Analysis Support System Geographical Information System or GRASS GIS. GRASS GIS manages, analyzes, and processes geospatial data to provide the topographic contours and maps of public roads that were cut, etched, stained, and assembled in think[box].
Transportation Domination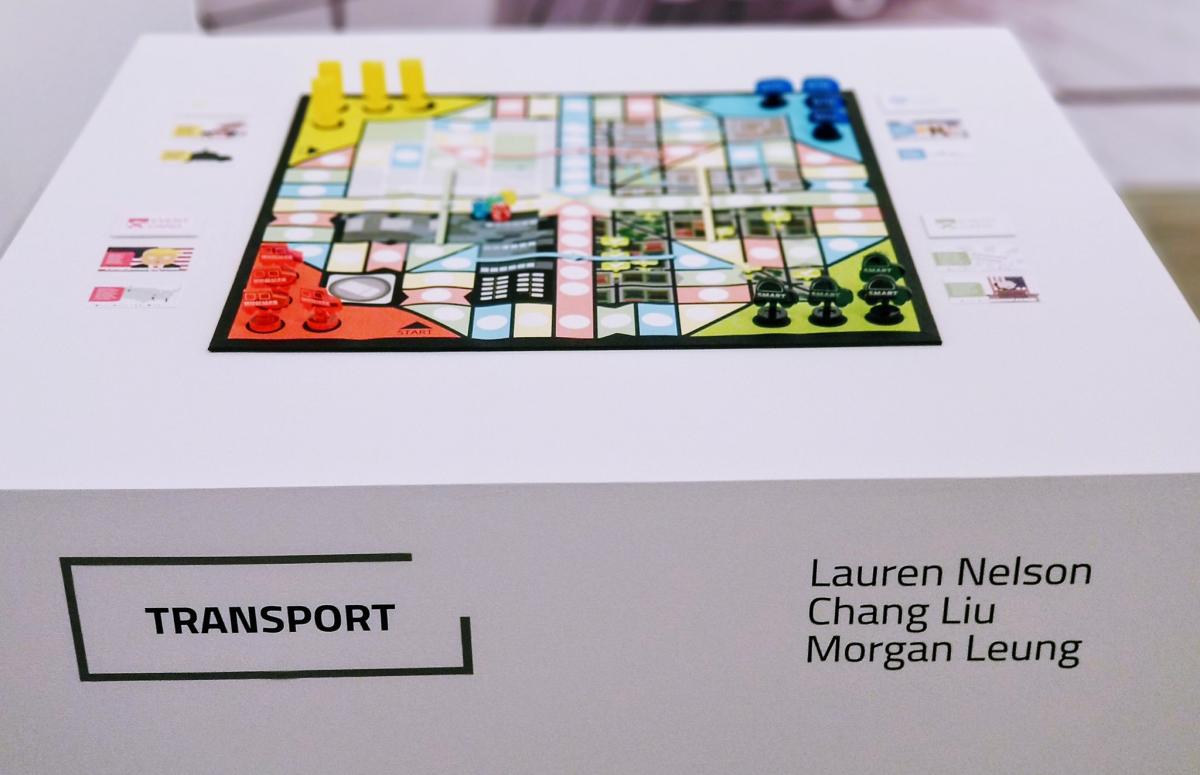 This fun, informative board game simulates the real-life business models of transportation companies. Players explore the current issues that the ride sharing, public transport, and individual ownership sectors face by drawing cards that present social, cultural, and economic changes. Navigating these changes, sectors compete to dominate the industry by getting the largest market share. In the process, they learn about the reality of the transportation industry and how it is changing. Transportation Domination is one of three board games produced in think[box] by a team of CWRU MBA and CIA students. Read more here: http://thedaily.case.edu/will-future-like-student-created-board-games-take-crack/
Wheelchair Conversion Kit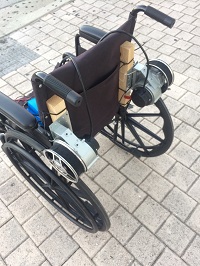 This wheelchair converter kit transforms manual wheelchairs into lightweight, high-performance electric wheelchairs. This kit attaches a small electric motor to the back of a wheelchair and drives the wheels with a small rubber wheel and friction. By making a kit to retrofit a manual wheelchair, this team aims to provide a more affordable alternative to electric wheelchairs.
DApp Tycoon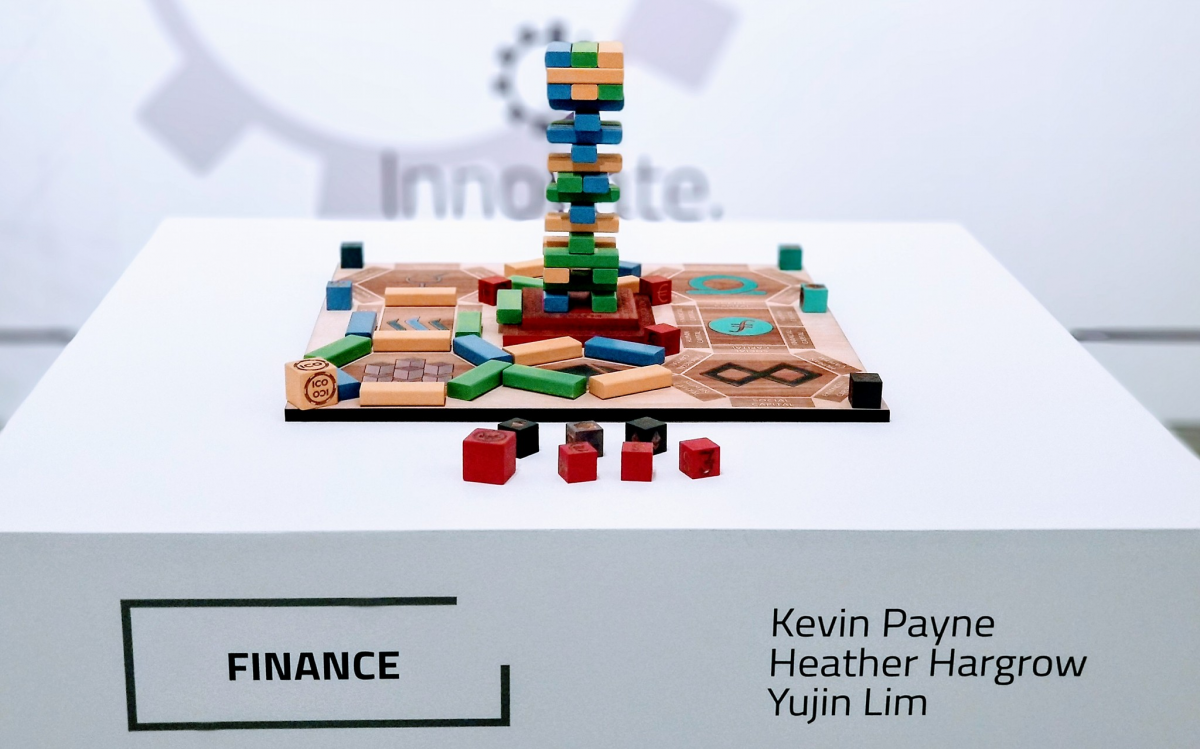 This innovative board game explores the potential effects of cryptocurrency, such as Ethereum-run Decentralized Applications (DApps) on society. Players play either as the corporate elite who control the majority of the resources or the independent DApps who challenge them in competition for blockchain technology. In the game different types of capital (human, social, etc.) are represented by blocks and are either stacked, helping the corporate elite, or removed, helping the DApps. Much like Jenga, selecting blocks becomes tricky as the game progresses. The game ends when one side controls all resources, or the tower falls (and therefore, society) collapses. DApp Tycoon is one of three board games produced in think[box] by a team of CWRU MBA and CIA students.
SolPow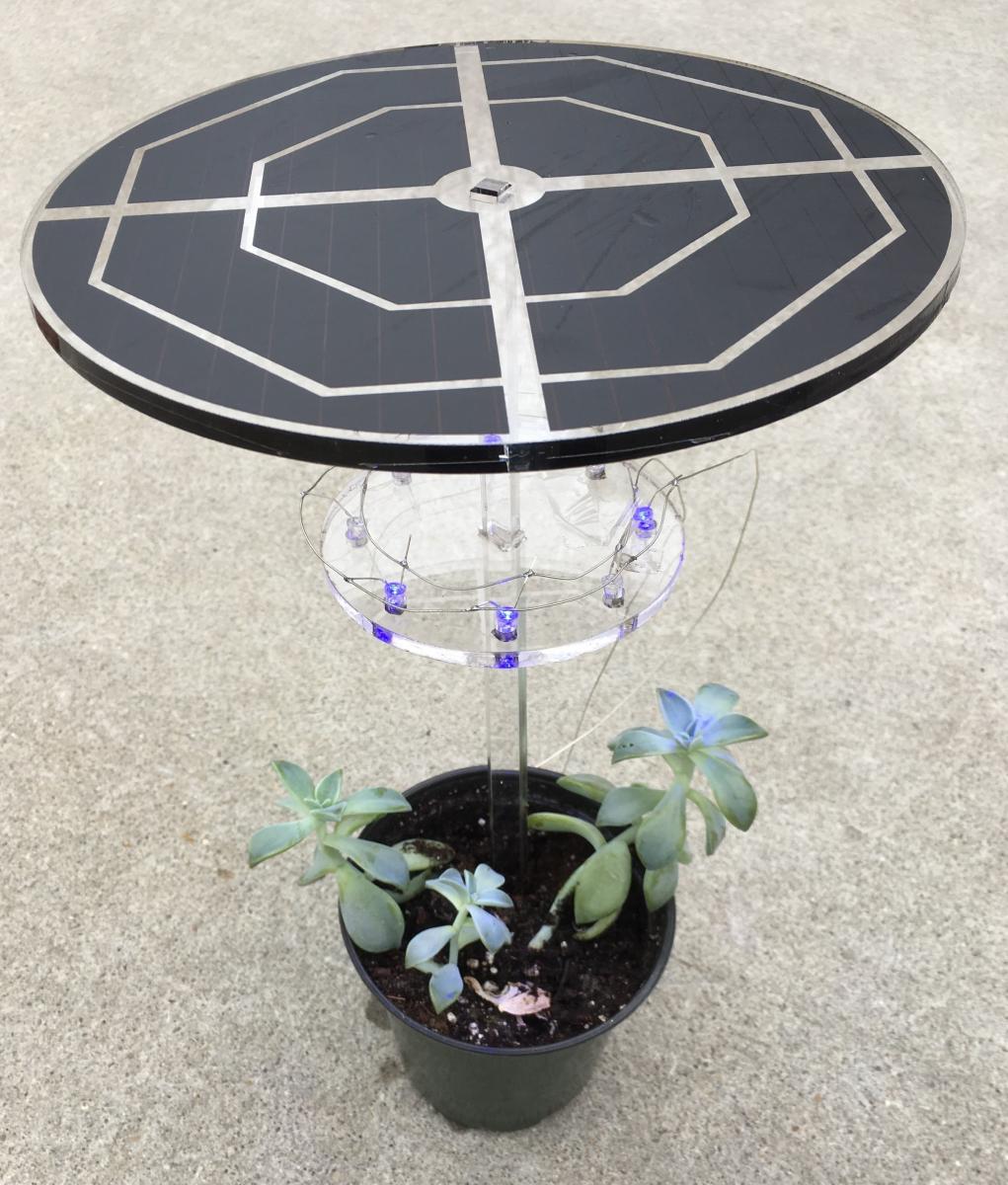 This high tech prototype of a solar powered grow light will revolutionize both indoor and outdoor horticulture. The device makes use of ambient electromagnetic energy to power LEDs optimized for plant circadian rhythms. Although there are other grow light solutions available on the market, this entrepreneurial student project ensures that plants are grown with 100% renewable energy.
Proposition for the Uninvited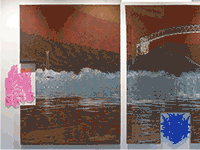 This forty foot wide artwork, titled "Proposition for the Uninvited," hangs in downtown Cleveland's Worthington Yards complex. Artist Michael Loderstedt created a multimedia display of a Cleveland cityscape overlaid with invasive plants using a digital jacquard loom, cast resin and digitally fabricated acrylic. The visual "ripple" effect in the water was achieved by weaving a colorful, very high-resolution pattern from a digital plan. The bright pink and blue detail pieces showing the invasive plant species, Japanese Knotweed and Purple Loosestrife, were cut and etched on think[box]'s laser cutter.
Generatively Designed Vehicle Suspension Member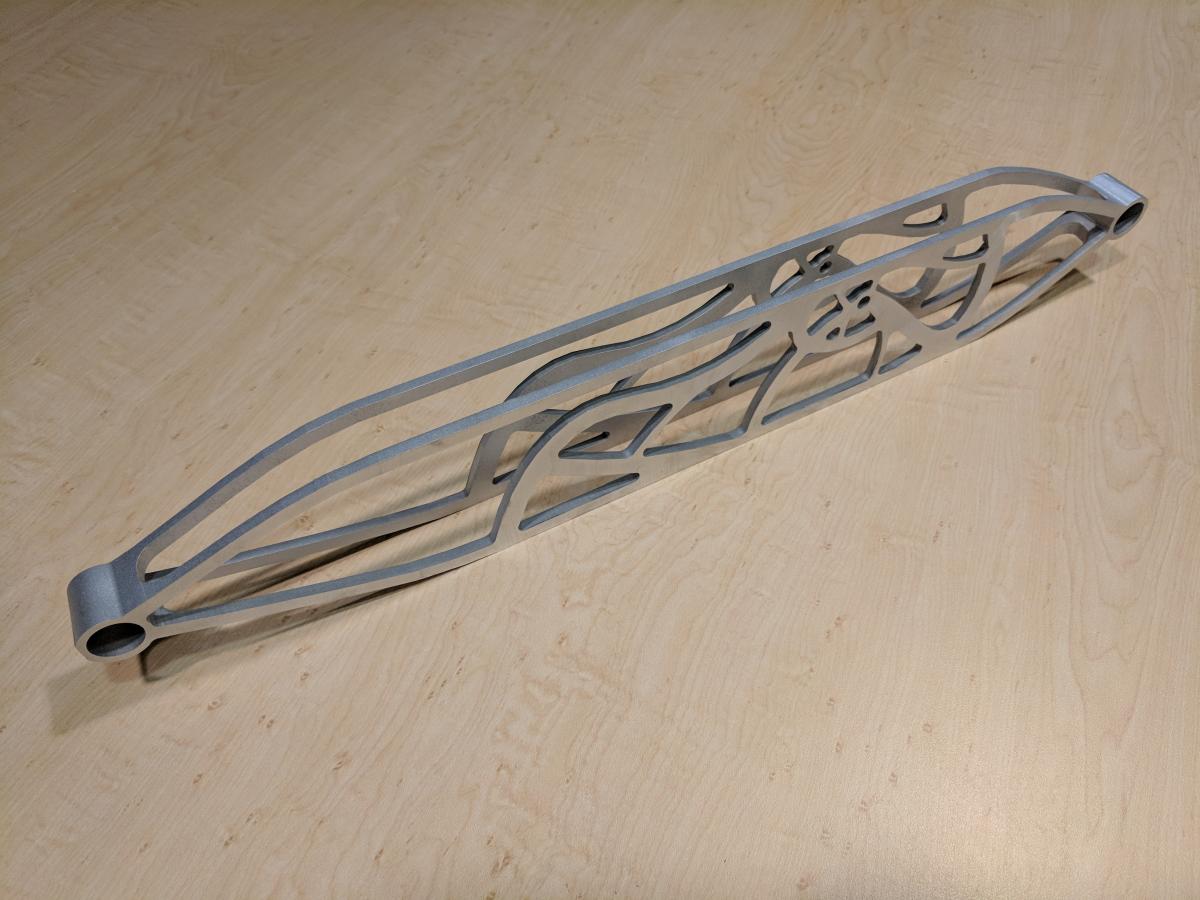 This rear control arm acts as a lightweight, load-bearing suspension member for a Baja racing competition vehicle. The CWRU Baja SAE team designed this part using Altair Inspire, a specialized 3D design software that optimizes strength of a part while minimizing its weight. By simulating the loads that the arm will need to carry, the software generates the lightest possible support structure. The students then cut the part out of extruded aluminum. The CWRU Baja SAE's mini-baja team will race a car using this part in demanding competitions.
Soil Stiffness Probe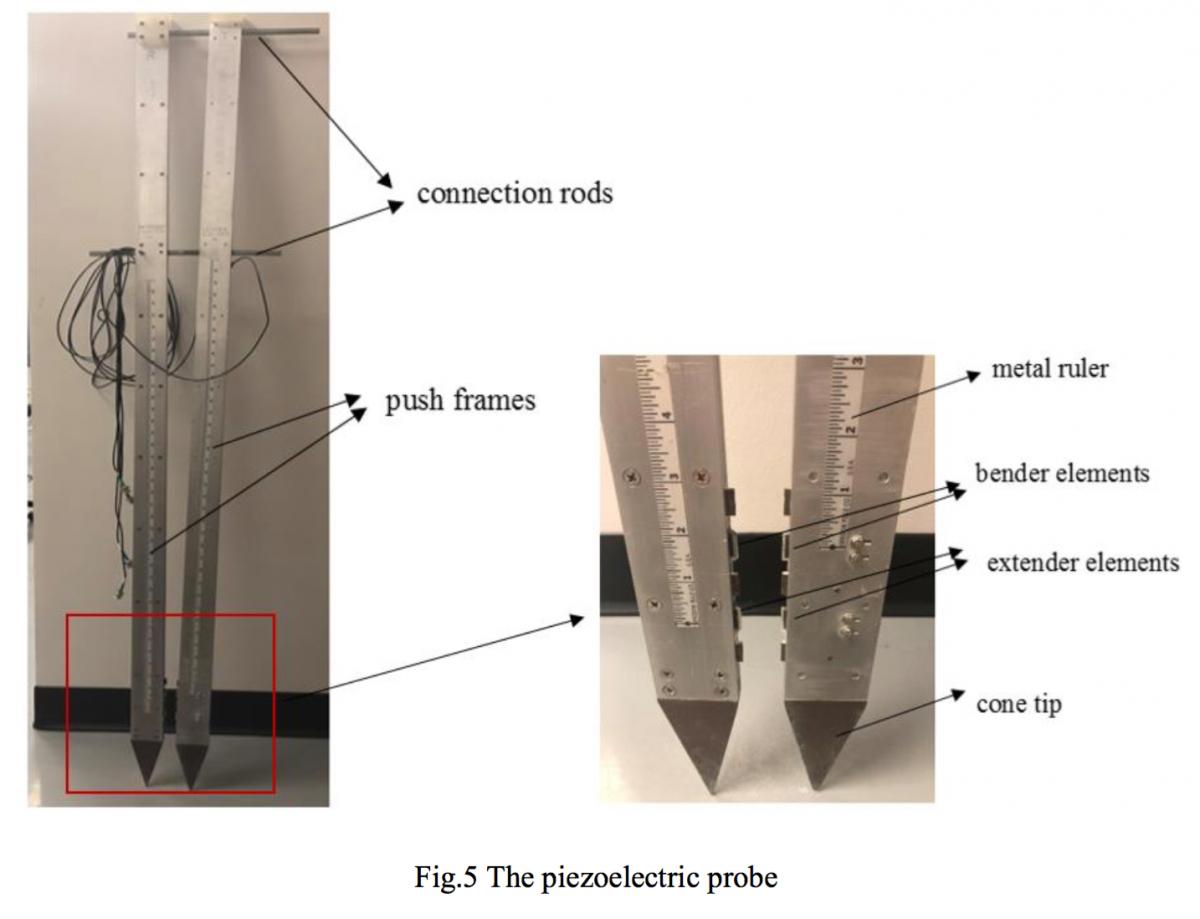 In this project, a new device to measure soil stiffness was developed and characterized by a PhD candidate in the department of Civil Engineering. The final device consists of one pair of bender elements, one pair of extender elements, two push frames, two solid cones, and two adjustable connection rods. The push frames were constructed from stock aluminum and metal rulers were attached to them in order to show the depth of the sensors below the surface of the soil.
Guitar Replica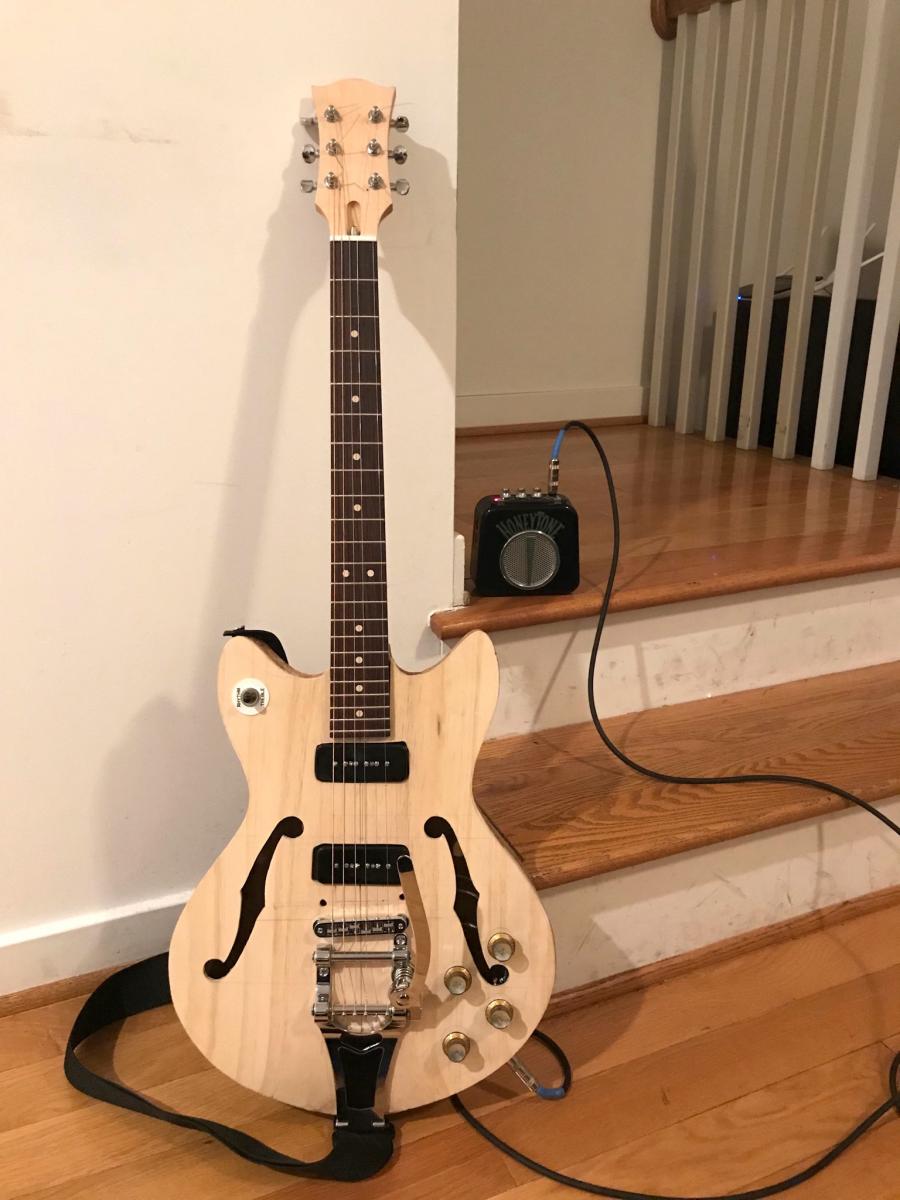 This replica of a semi-hollow body Washburn Delta King was created using the ShopBot. The original guitar was traced on a large sheet of graph paper, and points were selected and then plotted in SolidWorks as splines for the Shopbot to cut.
Peristaltic Pump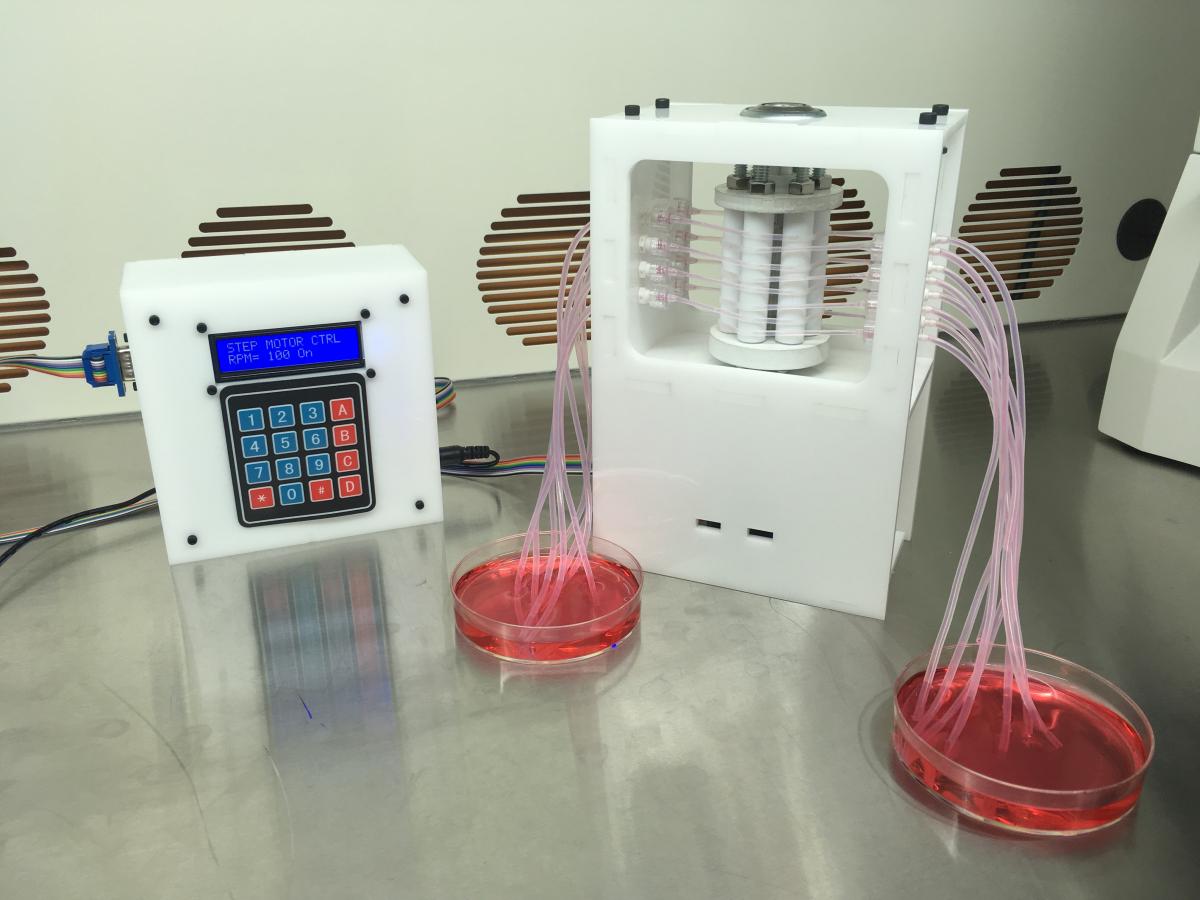 This low-cost peristaltic pump was built for use in cultured meat research at Kent State University. Cultured meat is the process of creating lab-grown animal cells for human consumption, with the goals of increasing animal welfare and reducing greenhouse gas emissions. Peristaltic pumps are commonly used in biological applications because the pump does not make direct contact with the biological media, thus avoiding contamination. Although peristaltic pumps are available commercially, this design addresses a need for small, customizable, low-cost solutions for wet lab equipment
Pages